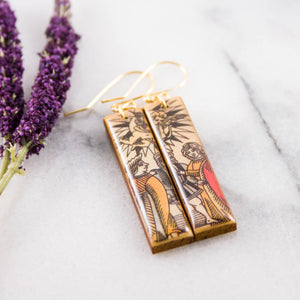 Italian Tarot Card Earrings- The Lovers
EAR2104
These unique earrings are made from a lovely paper Italian paper featuring traditional tarot designs. Mounted to ethically sourced maple wood, and sealed with glossy soy-based (BPA/VOC free) resin. Handcrafted, gold-fill ear wires.
Approximately .5 inches wide, and 2.25 inches long.
The Lovers represent relationships and choices. Its appearance in a spread indicates some decision about an existing relationship, a temptation of the heart, or a choice of potential partners... falling in love, commitment, choices, being at a crossroads, and partnerships.
MSRP $30.00
---
Share this Product